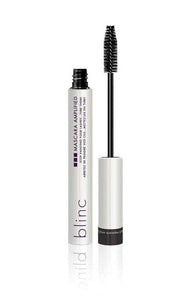 A tube-forming, water-resistant mascara that gives buildable, glamorous volume with no smudging, flaking, running, or clumping.

Suggested Usage:
-To apply, use Blinc Mascara Amplifed on clean and dry lashes.
-Brush on until you have achieved the desired degree of lash separation, volume, and length.
-You can build on additional volume by applying as many coats as you wish.
-For removal, neither water or pressure alone will remove Blinc Mascara Amplifed. Only the combination of lots of warm water and gentle pressure from your fingertips, a washcloth, or water pressure (i.e. shower) will slide the tiny tubes off your lashes effortlessly.
-Upon removal, you will actually see tiny tubes in your hand!